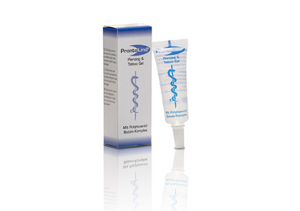 ProntoLind® gel
The gel adheres particularly well to nose and ear piercings and is ideal when a bandage is used
protects fresh piercing (e.g. body modifications). In flesh tunnels it acts as a lubricant and
avoids odors. In addition, combined with the ProntoLind® foam, it is ideal for
Infection prophylaxis when tattooing.
ProntoLind® products
- Provide antimicrobial safety and rapid healing through the unique polyhexanide-betaine complex
- are painless on the whole body and can be used without burning, also in the intimate and mucous membrane area
- Protect the skin and mucous membranes without attacking or drying them
- are safe to use long unlike many other after-care products
- are also suitable after the healing time for the daily care and cleaning of jewelry and stitch canal
- are free of alcohol, phenols and fragrances and therefore ideal for allergy sufferers
- 100% vegan