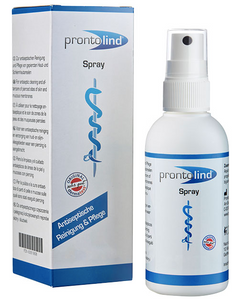 ProntoLind® TP Spray
The spray has a particularly wide range of applications. It also cleanses and cares for the skin
after the healing period. Especially in hard-to-reach, pierced places it penetrates independently
in the branch channel. ProntoLind® Spray is the only one specifically certified for piercing care
Medical product.
ProntoLind® products
- Provide antimicrobial safety and rapid healing through the unique polyhexanide-betaine complex
- are painless on the whole body and can be used without burning, also in the intimate and mucous membrane area
- Protect the skin and mucous membranes without attacking or drying them
- are safe to use long unlike many other after-care products
- are also suitable after the healing time for the daily care and cleaning of jewelry and stitch canal
- are free of alcohol, phenols and fragrances and therefore ideal for allergy sufferers
- 100% vegan
One bottle of the spray contains 75 ml (corresponds to 5,20 EUR / 100 ml)
Always read the label and product information before use.
The delivery period concerns 2 - 4 business days.