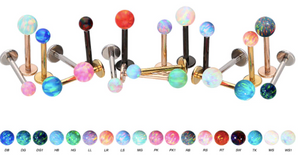 The Opal Labret is from our popular Surgical steel manufactured. The rod length is 5 mm, 6 mm, 7 mm, 8 mm and 10 mm, the Bar thickness 1.2 mm and 1,6 mm. Available in Silver, gold, rose gold and Black.
In Opal have a Size of 3 mm and are available in Dark green (DG), purple (LL), white (WS).
The body jewelry is easily sterilizable and kind to the skin.
Also available in titanium!
This piercing can be worn, for example, as tragus, lip piercing, conch, helix, forward helix, lobe, ear studs, nose studs, medusa and nostril. application for example on the ear, nose or lip.
All piercings of piercinginspiration are also in one cute jewelry box available.
The delivery period is 2 - 4 business days.
Opal Labret Titanium
| | |
| --- | --- |
| Collection | Steel line |
| Material | Surgical steel |
| Staff strength | 1,2 mm 1,6 mm |
| rod length | 5mm 6mm 7mm 8mm 10mm |
| Body site | Lips, ear, nose |