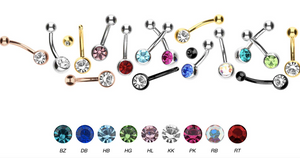 The Crystal Belly Button is from our popular 316L Surgical Steel manufactured. It is in Silver, gold, rose gold and Black available. The Rod length applies to 6 mm, 8 mm, 10 mm and 12 mm. roll have a size of 4 mm and 6 mm.
In addition, this piercing stands out with his clear (kk), light purple (HL), light blue (HB), zircon blue (ZK), pink (PK), red (RT), rainbow colored (RB) or light green (HG) gemstones out!
This piercing can be used as Belly Button
Like all piercings in the Steel Line, the body jewelry can be easily sterilized and kind to the skin.
All piercings of piercinginspiration are also available with a sweet jewelery box.
The delivery period is 2 - 4 business days.
Mini Crystal Belly Button Surgical Steel
| | |
| --- | --- |
| Collection | Steel line |
| Material | Stainless steel |
| Staff strength | 1,6 mm / 14g |
| rod length | 6 mm 8 mm 10 mm and 12 mm |
| Body site | Belly |