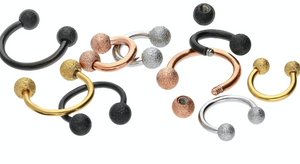 The Horseshoe diamond look barbell is from our popular 316L Surgical Steel manufactured and in 6 mm, 7 mm, 8 mm and 10 mm inner diameter available. The Size is 1.2 mm and 1.6 mm. roll are 3 mm and 4 mm große.
The body jewelery is like all piercings of the Steel Line easily sterilizable and kind to the skin.
Let your creativity run free, because this piercing can also be worn on the tongue, nose, lip, nipple and ear! For example as smiley, tragus, conch, helix, forward helix, lobe, nose piercing, lip piercing, nipple piercing, septum, web, nostril, daith, barbell.
All piercings of piercinginspiration are also available with a sweet jewelery box.
The delivery period is 2 - 4 business days.
Horseshoe diamond barbell